Download Recycling Symbols Vector Graphics PDF (248 KB)

You think it would be easy finding a vectorized recycling symbol online…but nooooooo! So I created a set of recycling symbols in Illustrator, feel free to download the PDF above by clicking on it… to extract the vector graphics, just open the PDF in Adobe Illustrator.
In all that research, I got more aquainted with one of the world's most recognizable icons… the humble recycling symbol. You may find some of these details helpful in selecting the right recycling symbol for your project.
"The universally recognized recycling symbol with three chasing arrows is a Möbius strip or unending loop… The Möbius loop symbol is in the public domain, and is not a trademark. The CCA originally applied for a trademark on the design, but the application was challenged, and the corporation decided to abandon the claim. As such, anyone is free to use the recycling symbol, although local laws may restrict its use in product labeling." - Wikipedia
The chasing arrow logo with the white outlined arrows means that the package may be recycled where appropriate recycling programs exist.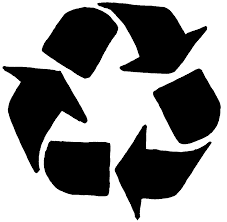 The solid version is a variation of the theme and is often shown in green or other colors.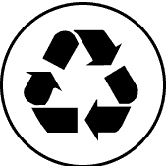 Arrows within a circle designate that the content is made from recycled materials. This recycling logo should not be used on printed material unless the paper contains a minimum of 30% post consumer waste.
Solid or white arrows in a black circle also indicate that the product contains recycled content. Often it will be accompanied by the symbol and a qualifying statement, for example, "Contains 50% Post Consumer Fiber." When the solid black symbol with white arrows is used alone, it means that the product is 100% recycled.
Industry associations for glass, paperboard, and corrugated materials have all developed unique recycling symbols. On plastics it is used along with a numbering system (1-7) to help designate plastic resins used in the product.
A snapshot of the fabulous compilation of symbol lingo by Dion Zeus at EcoLingo.
Filed under:
illustrations
,
business of illustration
—